200-HOUR JOSCHI YOGA TEACHER TRAINING DETAILS

ABOUT THE PROGRAM

Joschi Yoga Institute is an internationally recognized Hatha/Vinyasa Yoga Teacher Training Certification Program taught by Joschi Schwarz, Monika Werner and their faculty. The program covers Yoga History and Philosophy, introduction to Anatomy, Techniques and Practice of Vinyasa Yoga, Teaching Methodology, introduction to Sanskrit, ample opportunity for teaching sessions and study groups, mentorship and final exams.

CONTACT HOURS:

• Techniques and Practice of Vinyasa Yoga - 55 hours
Includes Asana, Pranayama, Vinyasa Krama, Meditation, Mantra, Chanting and other traditional Yoga techniques. Learn to teach Sun Salutations, Joschi Flow Yoga sequences and how to create anatomically smart classes. Teach and practice pranayama & meditation. Teach beginner and open level classes.

• Teaching Methodology - 35 hours
Focus on sequencing flows for varying effects and fitness levels and how to deliver them. Incorporating hands-on assists and multi-tasking, Finding your personal style as a yoga teacher and develop effective speaking skills.

• Anatomy and Physiology - 25 hours
Human anatomy and physiology, exploring the bodily systems like skeletal system, Joints, Muscular System, Respiratory System and Nervous System. Discussion of Special Conditions and Injury prevention. Discovering the Bandhas and the Chakras.

• Yoga Philosophy, Lifestyle & Ethics for Yoga Teachers - 30 hours
Understanding the evolution of yoga and how it has evolved into the 21st century. Reading and Discussing of important Yogic Texts.

• Basic Sanskrit - 5 hours
Understanding the Ancient Language of Yoga

• Yoga Practicum - 25 hours
Practicing teaching in small groups as well as designing and teaching a full class.

• Professional Yoga Practice - 5 hours
Discussing business skills pertaining to the art of being a Yoga Teacher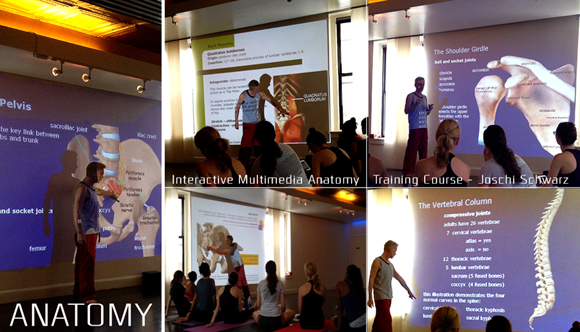 SAMPLE DAILY SCHEDULE

This intensive Yoga Certification Program meets Monday through Friday from 8am to 5pm.

8:00-9:30am - Technique and Practice of Vinyasa Yoga

9:30-11:00am - Lecture

11:00-12:00pm - Class Time

1:00-3:00pm - Lecture

3:00-5:00pm - Practica

REQUIREMENTS FOR THE JOSCHI YOGA INSTITUTE TEACHER TRAINING PROGRAM

Before starting the teacher training course you need to:
• Have or establish a regular Yoga practice (preferably for at least 6 months)
• Submit full payment
• Have your required books
• Experience with the Vinyasa yoga method is preferred. The course is designed to prepare you to teach the Hatha/Vinyasa Yoga style.

What you need to bring:
• Yoga Mat
• Towel
• Notebook, pens, pencils
• Practice Clothes
• Teacher Training Manual (you will receive your manual on the first day of training)
• Snack/something to drink

If you are taking medication or have any special conditions we should be aware of, please let us know!

© 2013 Joschi International. All rights reserved.